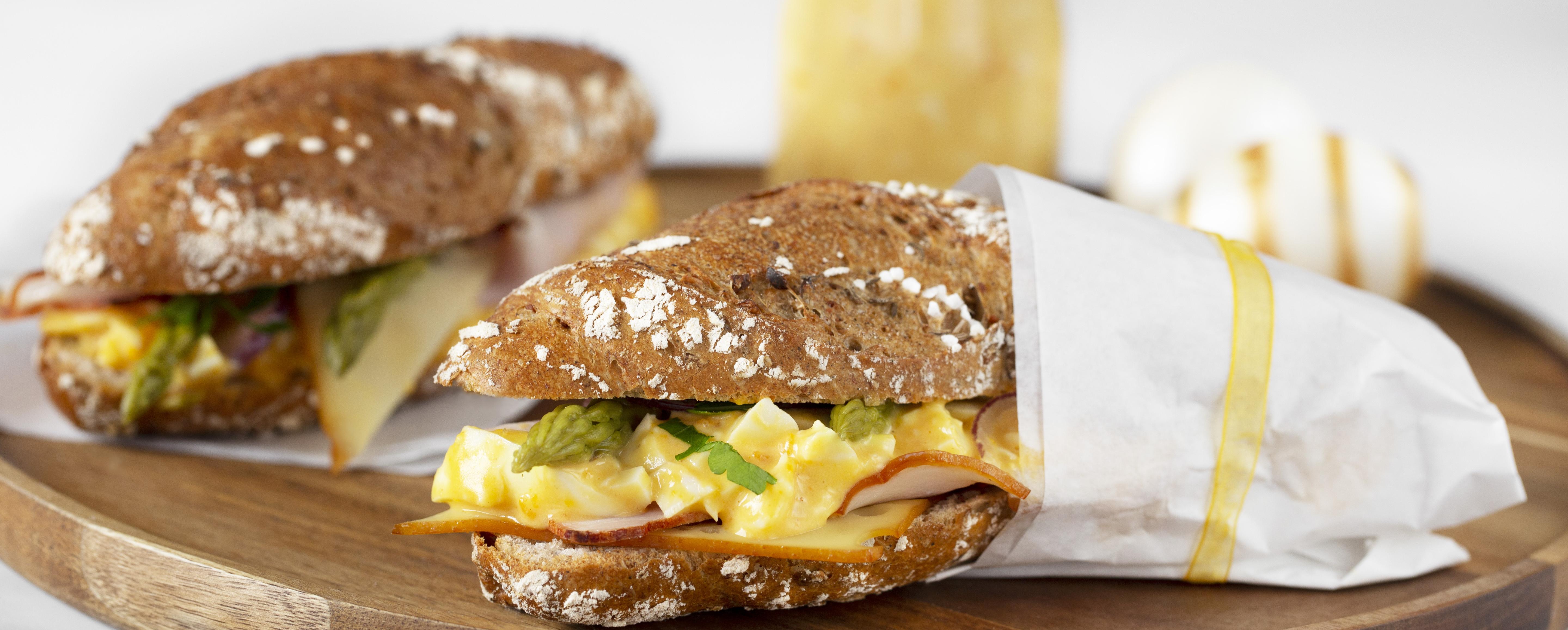 Easter: what's on the table?
At Eastertime, there are many traditional foods on the menu for most people. We have a few tips to make things a little more balanced but still tasty, so you don't throw out all the good resolutions from Lent.
MEAT AND COLD CUTS. ENJOY IN MODERATION
In some Easter traditions, the end of Lent is traditionally celebrated with an Easter ham. There is no one particular recipe for this, rather the preparation methods differ according to region and taste preference. In some places, the Easter ham is not classic ham at all, but a piece of smoked meat. Sometimes you even see the ham baked into delicious bread. Of course, processed meat and sausage products can be enjoyed on such special occasions, but always in moderation. Among other things, they contain large amounts of salt. In the case of ham, the average is around 2.5 grams per 100 grams, and the recommended maximum daily amount of salt is six grams.

WHOLEGRAIN RATHER THAN WHITE BREAD – BUT WHY?
Baked with or without ham, good bread belongs to any snack platter. Ideally, it should be bread with a good proportion of whole grain, which is particularly valuable from a health point of view. In this case, the entire grain is ground together with the husk, the underlying aleurone layer, and the germ. There are minerals and vitamins under and in the shell, the aleurone layer scores with high-quality protein, and the germ provides vitamin E and unsaturated fatty acids.
Bread with a proportion of whole grain also contains more fibre, for example in the form of cellulose, hemicellulose or lignins. The latter can come from the grain husks or also from flaxseed. As lignins combine with water from the food pulp, the volume of the mass being carried through the intestine increases. To better digest this mass, the body increases intestinal activity. In this way, the digestion of insoluble fibre becomes a kind of muscle training for the intestines, and the food is digested faster. This has a positive effect on intestinal health.
But traditional delicacies like pinca, braided Easter breads or hot cross buns don't have to be forgone either. Here, the same principle applies: if you consciously enjoy foods like these in moderation throughout the year, you can also eat them at Easter without a guilty conscience.

HORSERADISH – A VITAMIN C BOMB
There's no need to hold back on the horseradish. The spicy root vegetable contains 114 milligrams of vitamin C per 100 grams, which is more than twice as much as in lemon juice.

COLOURFUL EGGS – EVEN UNDER THE SHELL?
When eggs are boiled too long, the yolk will turn greenish/blueish around the edge. Have you ever wondered whether the yolk is still safe to eat? The answer is yes, because the colour is just the result of a chemical reaction where sulphur is released and hydrogen sulphide is formed. This can be consumed without hesitation.
However, hard-boiled eggs are a bit harder to digest than soft-boiled ones. The heat during cooking solidifies the structure of the yolk and egg white. Healthy people can easily digest hard-boiled eggs, but if you have a sensitive digestive system, soft eggs are recommended.
Any eggs left over after Easter can be used to make egg spreads, stuffed eggs or egg salad.
Autor: Land schafft Leben